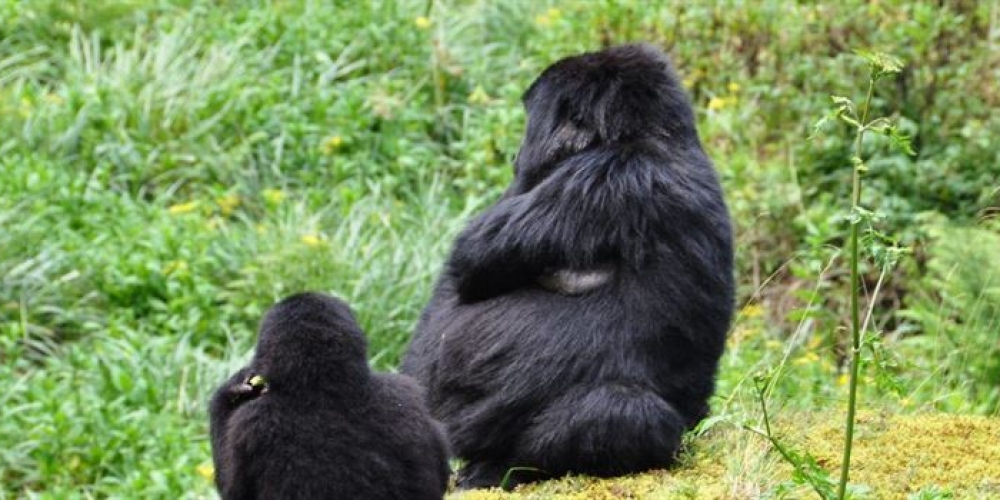 We strictly purchase Uganda Gorilla Trekking Permits from Uganda Wildlife Authority, the conservation institution that manages Uganda's national parks. It is the only Government agency authorized to sell or issue out gorilla permits As such, you will 100% chances of visiting and exploring Bwindi Impenetrable National Park and Mgahinga National Park—the two habitats for gorillas in Uganda. While permits for foreign tourists costs $600, foreign residents costs $450 and East Africans 250000UGX. The permit covers for the cost of entry into the park, photography fees in the park and a professional gorilla ranger guide who will accompany you during the gorilla trek.
Gorilla tracking in Rwanda takes place in Volcanoes national park and costs $1500 all tourists regardless of whether they are Rwandan nationals or not. Tourists who intend to tour other parks in Rwanda are eligible for 30% Discount (US$ 1,050) on gorilla permits during the low season of November – May. Want to trek in Rwanda? We are just an email away and ready to help you plan for your trip.
Gorilla Tracking Permits to Congo's Virunga National Park costs $400 for non-Congolese, $150 for Congolese Nationals and $250 for nationals of Southern African Development Community such as Angola, Botswana, Eswatini, Madagascar, Malawi, Mauritius, Mozambique, Namibia, South Africa, Seychelles, Tanzania, Zambia and Zimbabwe. Look through your travel calendar and pick a date you would like to trek. Upon contacting us with this information in mind, we will check availability of permits for you and let you know if they have sold out. In case they, you can pick a separate date. Alternatively, we can offer you our pre-purchased Gorilla Tracking Permits. You can then proceed to send us payment that will be used in booking a permit slot for you in one of the five wings where gorilla Tracking takes place. Next, we will email you an invoice from Uganda Wildlife Authority confirming your payment. The rest as they say will be history.
Each habituated gorilla family is visited by a maximum number of 8 tourists per day. This makes it a small and intimate adventure. It also doubles your chances of getting good pictures as there will be lots of room while you are with the gorillas. When you meet gorillas, you will be advised to keep a seven meter distance from the gorillas so as to minimize the risk of their exposure to human-borne diseases. However, this rule is hard to keep up as infants of gorillas could wander closer to you out of a desire to play with you. Children above 15 years to trek gorillas in Uganda and Rwanda. If your child is younger, they need clearance from Uganda Wildlife Authority first. Amazing Gorilla Expeditions is happy to help you with securing this clearance.