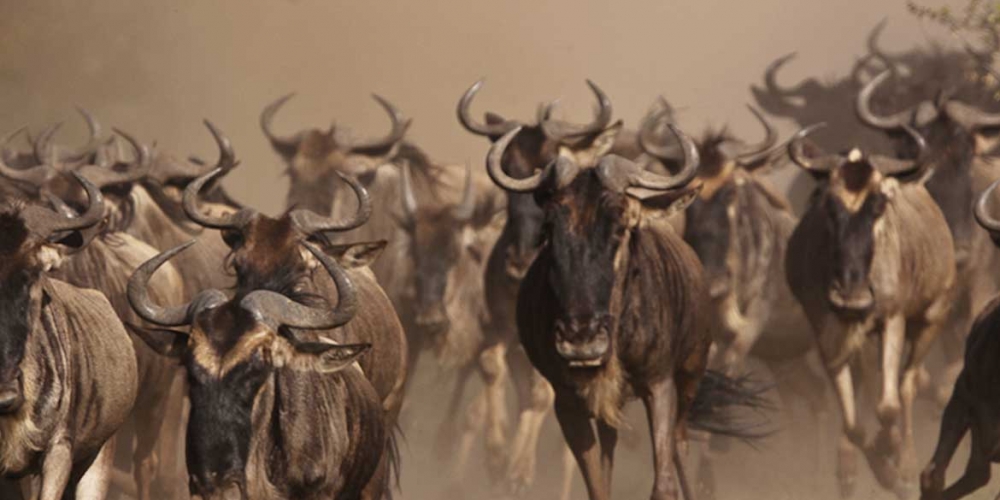 Tanzania is known for its vast wilderness areas. They include the plains of Serengeti National Park, a safari mecca populated by the "big five" game (elephant, lion, leopard, buffalo, rhino), and Kilimanjaro National Park, home to Africa's highest mountain. Offshore lie the tropical islands of Zanzibar, with Arabic influences, and Mafia, with a marine park home to whale sharks and coral reefs.
Tanzania has almost 38% of its land reserved as protected areas, one of the world's highest percentage. Tanzania boasts 16 national parks and is home to a large variety of animal life. Among the large mammals include the Big five such as lions, elephants, buffalos, leopards and rhinos, as well as cheetahs, wildebeest, giraffes, hippopotamuses and various antelopes. Tanzania's most well known wildlife attractions are located in the northern part of the country and include the Serengeti National Park, Tarangire National Park and Lake Manyara National Park. The Serengeti National park encompasses the world-famous great migrations of animals. The Serengeti National Park is the most popular park in the country and had the chance to host more than 330,000 visitors in 2012.
The north is also home to the Ngorongoro Conservation Area. The Ngorongoro Conservation Area includes the Ngorongoro Crater, which is an extinct volcanic caldera with lions, hippopotamus, elephants, various types of antelope, the endangered black rhinoceros, and large herds of wildebeest and zebra. The Crater also holds the Olduvai Gorge, considered to be the seat of humanity after the discovery of the earliest known specimens of the human genus, Homo habilis as well as early hominidae, such as Paranthropus boisei.