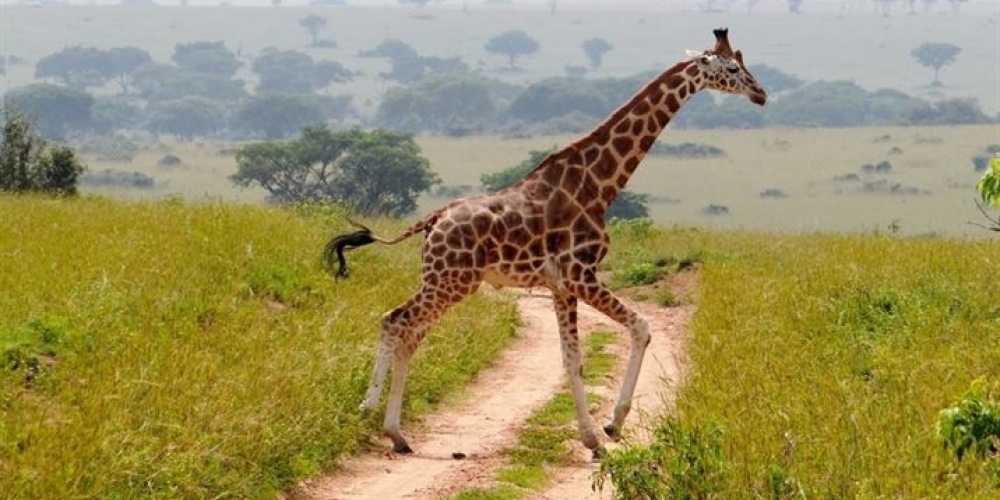 Found on the edge of the Albertine Rift Valley and located in north-western Uganda, Murchison Falls National Park is Uganda's biggest national park measuring 3,840km2. Renowned for its scenic beauty and the spectacular falls from which it gets its name, Murchison Falls National Park has abundant flora and fauna to delight the visitor. From rolling savannah and tall grasslands to thick bush and woodlands, the diversity of this park never ceases to amaze visitors and residents alike. Wild animals found in this park include four of the Big Five except rhinos. The good news is that you can see the rhinos while on your way from Kampala at the Ziwa Rhino Sanctuary. The park has 75 species of mammals and 451 species of birds inclusive of the shoebill. It is the most sought species in Uganda. Other mammals include buffaloes, lions, elephants, jacksons hartebeest, waterbuck....the list is endless.
Why you should be at Murchison Falls National Park
If you are in Uganda and do not have time for a long costly trip to Kidepo-CNN Park of the year 2016, then Murchison Falls National Park is a convenient, affordable and worthwhile destination.
On seeing its scenery, your jaws will drop in awe. It is a mix of rolling grassy hills, towering borassus palms, papyrus swamps and rain-forests all of which are well conserved. At the heart of all this beauty is the world's longest River, Nile. It slithers through the park creating scenic rapids and thunderous waterfalls - the most magnificent being Murchison Falls. Here, the speedy river powerfully explodes through a seven meter wide cleft in the rock and plummets 45 meters down into a narrow gorge known as the Devil's Cauldron. It is said to be the world's most powerful waterfall. See, no other place on earth is known to have such a huge river squeeze its self through such a narrow outlet.
Don't be surprised when you come across giraffe courtship/fighting as you pursue a quiet, cool game drive in the grassy plains north of the river. Here, you will also find thousands upon thousands of Uganda kobs and herds of big game like buffaloes, lions, elephants, jackson's hartebeest, and waterbuck. If you watch the small thickets near these herbivores more keenly, you won't have any problems spotting predators like lions and leopards.
Boat cruise on River Nile
As you pursue a two hours boat cruise on the Nile to the mouth of the falls, you will have lovely shots of elephants walking towards the river while kicking up lots of dust. You will also see one of Uganda's largest concentrations of Nile crocodiles. You can watch hundreds of them sunbathing at the banks and patiently waiting for prey in the shallow shores. Not so far from them are hippos practically piled on top of each other. Set your cameras and be ready to get their photos as they yawn.
Other areas in Murchison Falls Conservation Area
Budongo Forest.
Budongo forest is beautiful and worth a stopover for an early morning chimp tracking excursion. It is supports roughly 800 chimpanzee individuals which live in communities. Over 200 of these have been habituated for tourism. The rest have been reserved for research purposes since the 1970s (by Dr. Jane Goodall-the World's foremost expert on Chimpanzees). The 465 plant species that have been recorded at Budongo make it one of the most ecologically diverse forests in East Africa. It has the most gigantic trees in Uganda—with several mahoganies whose width is as huge as nine men combined. Most of them rise up to a height of 60m.
Bugungu Wildlife Reserve:
Gazetted 50 years back, this reserve lies in the Northern section of the Albertine Rift Valley between Bulisa and Masindi district. It covers 501 Km2 .It is dominated by a season wetland and open savannah grassland. Most animals from Murchison falls retreat here whenever they want plenty to eat. As you explore in a nature walk and game drive, you will find countless schools of hippos, over 500 Uganda Kobs and 1,000 oribi, prides of Leopards and Lions, Buffaloes, oryx, warthogs, waterbucks, elands, elephants, topis, Rothschild giraffes, reedbucks, sitatunga, bushbucks. On the part of primates, you will encounter both old world and new world monkeys like olive baboons, black and white Colobus monkeys, vervet monkeys,patas monkeys and L'Hoest's monkeys.
Bugungu has 240 recorded bird species; Black-bellied Bustards, elusive shoebill stork, Black-billed wood dove, Black-headed Batis, Black-billed barbets, Dark chanting Goshawk,  Yellow-throated greenbul, White-browed Sparrow Weaver, saddle-billed stork, Black-billed barbets, Giant Kingfisher, Eastern grey Plantain-eater, Black-headed Gonolek, Abyssinian hornbill,  Speckle-breasted woodpecker, Swamp Flycatcher......the list goes on.
Rabongo Forest:
This forest destination lies on a Island that is estimated to cover 4 Km2 . It is surrounded by Savannah grasslands and sits on the South-eastern side of Murchison Conservation Area. It offers a lifetime encounter with primates ranging from chimpanzees, olive baboons, Black and white Colobus monkeys, Red Colobus monkeys, Vervet monkeys, Red-tailed monkeys, Patas monkeys, Grey-cheeked mangabeys. During your nature walk, you will also catch sight of mammals that thrive in forests like forest elephants, forest buffaloes, leopards, duikers and warthogs.
Karuma Falls
If you are looking for the most scenic white water rapids along river Nile, narrow your search to this game reserve which lies in the Eastern part of Murchison. It is spread over 80 kilometers and fed by Lake Kyoga. At its banks, you will find impenetrable jungles and evergreen forests.
Karuma has lots of cascading rocks which are interlocked. This offers resistance to the speedy flow of the river there by creating thunderous explosions. The river subsequently feeds Murchison falls, one of the most powerful and spectacular waterfalls on earth.
It is a refreshing sight to behold and a reminder of what Africa looked like over a century back. Karuma is one of the places that John Speke visited in 1850s during his spirited search for the source of River Nile.
Best time to visit Murchison Falls National Park
If you want the picturesque encounters, Murchison's scenery is most beautiful in the dry months from December to February. During this time, the park has clear blue skies and shorter vegetation. This makes it easy to spot wildlife from a far. At this time, animals gathers at water sources to rehydrate themselves. There is less risk of malaria unlike in the wet seasons from June to November when mosquitoes breed the most.
Travel Tip
Carry a sunblock/sunscreen and sunglasses. For much of the day, you will be exposed to harsh sun.