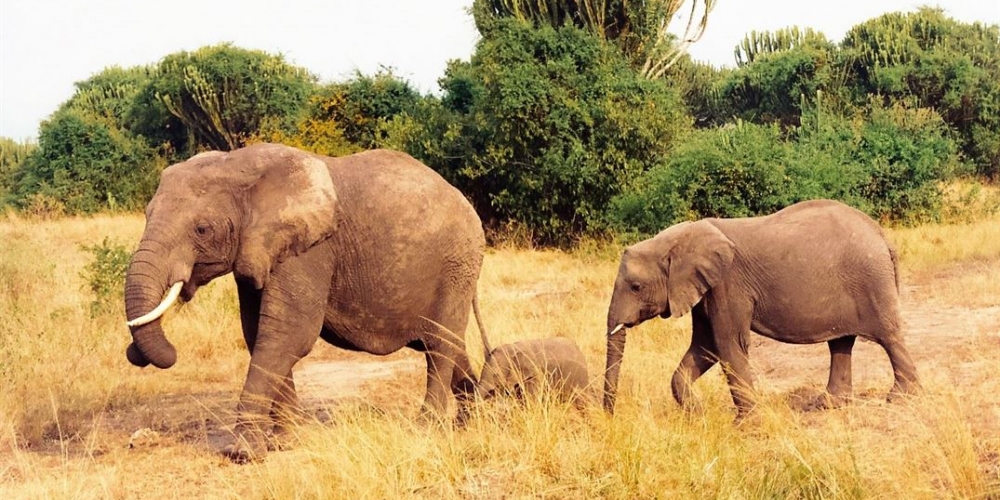 Queen Elizabeth National Park is as good as Murchison, Kibale and Kidepo combined as it has a collection of the best of what they have to offer. This cuts across from wildlife species and diverse natural features, gorges where you can track primates, foothills of astonishing mountains, and rivers with sunset boat cruises. The cherry on the cake is an open savannah where you can watch tree climbing lions strike prey at unbelievable speeds.
Kazinga Channel in Queen Elizabeth National Park
The boat ride at Kazinga Channel is really sensational and rejuvenating, the river itself is beautiful with a parade of hippos and birds. It is a vast river stretching between Lake George and Edward. Among the things that make it unique is that you get much closer to the wildlife species that have been around since the ice age. One such is the crocodile, a beastly reptile that has been around since the time when dinosaurs still roamed the earth. The Bird life here is extensive both in numbers and species. This is thanks to the park's ability to attract 600 recorded species. Within 30 minutes-you will have seen at least 50 different species. At Kazinga, you will watch kingfishers and eagles as they dive bomb into the water to grab fish.
Crater Lakes in Queen Elizabeth National Park
A walking safari by the crater lakes is highly recommendable. The park is dotted with several enchanting lakes that have been ranked among the World's most beautiful by authoritative travel media like CNN, National Geographic, and Twisted sifter. Most of these lakes don't have in-flowing streams and sediment. They are fed by rainwater and have beautiful shades of a rainbow; thanks to reaction of natural chemicals and volcanic gases they have.
Chimp tracking in Queen Elizabeth National Park
Kyambura Gorge is not an ordinary chimpanzee destination. It is a humid underground forest that is more atmospheric. Here, a family of habituated chimpanzees swings from one tree to another with abandon. You can spend a day with them and share their daily routine. You will follow them as they travel through the forest, rest, groom each other-eat, drum buttress roots of trees.
Game drives in Queen Elizabeth National Park
A game drive in the northern part of the park on the other hand puts you face to face with sprawling hills, picturesque woodland and open savannahs. In these settings, you will get to see the Big 5 with the exception of rhinos. The best place to chance on lions is Kasenyi, a quiet and serene environment with well stocked larder of Uganda kob. If it is a clear day, you will be able to see some peaks of Rwenzori-Uganda's highest Mountain.
Tree climbing lions in Queen Elizabeth National Park
At Ishasha, a sprawling Savannah separated from the Democratic Republic of Congo by a muddy river, you will be chance on prides of tree-climbing lions. Our driver guide will go the extra mile to ensure you see the lions as they hang in the branches to get clear views of prey as they roam in the plains.