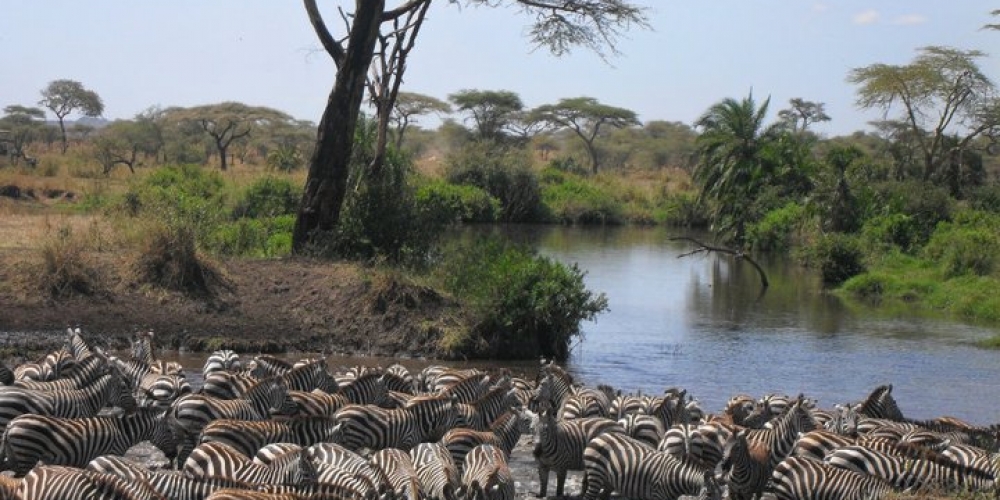 George Adamson, co-raiser of Elsa the lioness, and husband of "Born Free" author Joy Adamson, visited the Serengeti in the early sixties and describes the experience in "Pride and Joy", his autobiography. At this time he considered it probably the greatest of all game reserves in Africa and one man was mainly responsible - Bernhardt Grzimek, Director of Frankfurt Zoo. The Serengeti had suffered terribly from over-zealous hunting in the 1930's and from large-scale killing of game during the war. Grzimek applied himself to the tensions between Maasai need for grazing and the indigenous wildlife. He and his son carried out a massive survey, using planes to quantify the game, and identifying and logging the plant life. He used his best seller "Serengeti Shall Not Die" to raise funds and publicize the exercise. Thanks to the Grzimeks, and to John Owen who established a renowned scientific research establishment there, the Serengeti still has an amazing concentration of wildlife.
The 14,763 square kilometres of the Serengeti are probably most famous for being the southern end of the Great Migration. Every year over 1.5 million animals, mostly wildebeest but also zebra and Thompson's gazelle, follow their instincts and move through the western corridor on their 1000 kilometre journey to the fresh grazing of the Masai Mara. Predators pick off the weak, the laggardly and the young and crocodiles feast as the vast herd crosses the rivers but they continue their trek, as they have done since time immemorial. This is one of the earth's great sights - but it is by no means all the Serengeti has to offer.
The vast, flat central plains, made fertile by the ashes of the none volcanoes of the Ngorongoro highlands, are places of huge skies, of shimmering heat hazes, yet also of delicate wild flowers blooming after the rains. The savannah, sprinkled with Acacia Tortilis, has majestic termite mounds and rock formations called kopjes, which make great vantage points for predators. The lion are abundant, the leopard are plentiful (yet still secretive) and black rhino and cheetah both breed here. There are more than 500 species of bird and, interestingly, 100 sub-species of dung beetle - a sign of a varied animal population! Ndutu, in the south, has small lakes where you may see hippo and water birds. Perhaps one of the best ways to see the Serengeti is a hot air balloon ride when, in the cool of the early morning, you may admire the grandeur, the vastness and the stunning landscape.