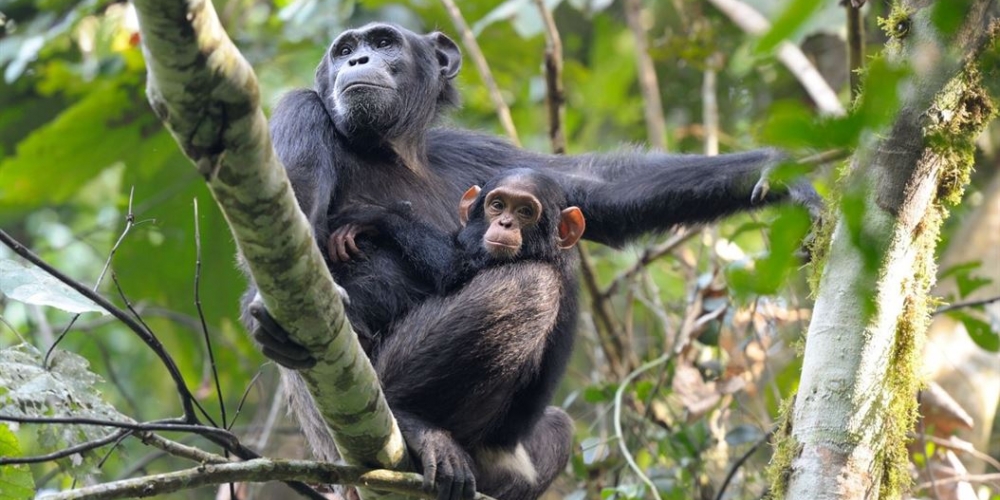 Kibale Forest National Park is found in western Uganda. It is a wild tropical forest that boasts of Uganda's highest chimpanzee population, over 1400 of them. As such, you stand very high chances of seeing them anytime of the year. It is a profoundly humbling experience to encounter these fun loving primates in their natural environment. This also applies to the other 12 primate species to which Kibale Forest National Park is home, a mix of both new world and old world monkeys like Grey-cheeked Mangabey and Blue Monkey, baboons, Bushbaby, Black-and-white Colobus Monkey, Red-tailed Monkeys. During your visit to this park which sits on the floor of the Albertine Rift Valley, you will be blown away by the healing power of nature. The park has a very rich concentration of diverse fauna and flora. It has over 320 tree species several of which are over 200 years old and are as high as a sky scraper with five floors. 
Given that the rainy forest is most vibrant in the morning, your chimp tracking excursion will start early. Our driver guide will transfer you to the briefing area. Here, a park ranger guide will give you a detailed brief on dos and don'ts of tracking these adorable primates. One of the first things that will grab your attention in Kibale Forest is the beautiful sunrise. Chords of soft light spear through the dense canopy, bathing the floor of the forest in gold. As it warms up the humid forest, a galaxy of colorful butterflies will buzz through the beams of light, creating a beautiful scene that will brighten your day. The trekking here isn't as tough as Virunga National Park as the landscape is less hilly. At some point, you will come so close to the chimps, their cute babies might even run between our legs. If it is your lucky day, you might come across three or more families. You will have quality time with each of them as you learn what it means to have 98.7% common D.N.A with them. The experience will be a sweet memory as it is graced with a good quality of tour guiding by the rangers.
Other wildlife species found in Kibale Forest National Park include forest elephants, forest buffaloes, sitatunga, giant forest hogs, warthogs, bushbucks, peter's duikers among others.
In regards to bird watching, one of the best areas in the park is Bigodi Wetland Sanctuary, a community owned swamp where rewarding nature walks abound. The two hours experience is a first class ticket to seeing more than 100 species of birds. The park is the only place in Uganda with Cassin's spinetail, Masked apalis, Blue-headed bee-eater and Nahan's francolin. In total, Kibale Forest National Park has 370 species inclusive of forest specials, like African pitta.