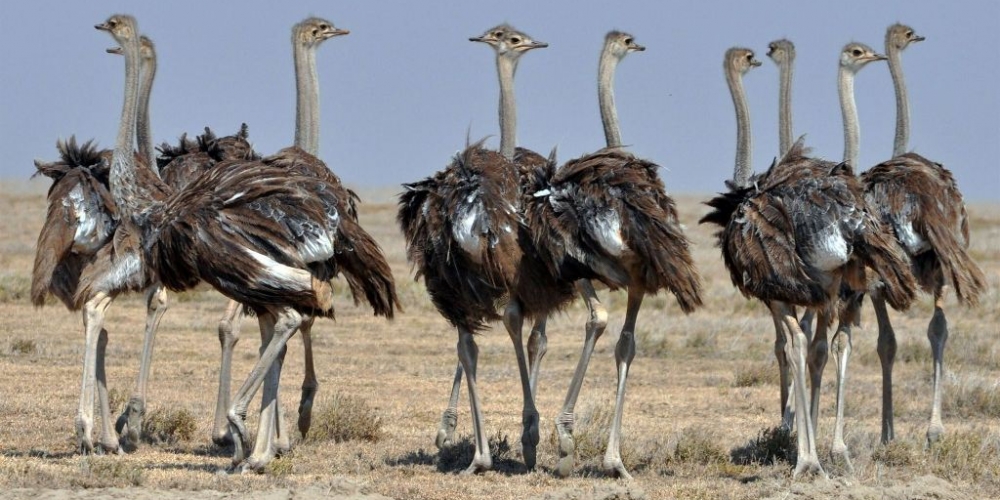 Kidepo Valley National Park delivers astounding variety in a small area and has a primeval wilderness vibe. Your chances of seeing 4 of the Big 5 here are great. If you love travelling the world to encounter unique bird species, Kidepo Valley National Park has 500 recorded species. The most easily noticeable ones are flocks of egrets and Karamoja apalis. Other notables are Dark Chanting goshawk, Abyssinian scimitarbill, Pygmy falcon, Little bee eater, Chestnut weaver, Red and yellow barbet. Migratory birds are best seen between November to April. The park prides in having a great population of the biggest land birds, ostriches.
Kidepo Valley National Park is tucked at a blissfully remote setting that is few minutes' walk away from Uganda's border with South Sudan and Northern Kenya. As you drive into it, you will be awe-struck by a massive mountain range with jagged shapes. In their foreground are beautiful ant-hills upon which herbivores like zebras, reed-bucks and buffaloes stand every now and then to get clear views of their worst nightmare. This range from both small carnivores like bat eared fox and side striped jackals to prides of lions and leopards. The park also has random sightings of cheetahs.
Prior to it being gazzetted in 1962, Kidepo Valley National Park was a hunting ground of the Ik tribe. It is one of the few tribes in Africa whose cultures and traditional way of life is still as intact as it was a century back. Thanks to consistent conservation efforts, the park's wildlife population has regained its glory. The population of the elands, rothschild giraffes and Uganda kobs trans-located to here from Murchison is thriving. The park has an estimated 700 elephants. Imagine an open savannah with 700 of the world's largest land mammals. How dramatic!! Following the extinction of rhinos from the park, plans are underway to re-introduce to it over 20 rhinos from Ziwa Rhino Sanctuary. 
If it is a dry season, you could sit back and relax at the Narus valley, a wildlife corridor with water holes where conglomerates of herbivores come to quench their thirst. The most common is cape buffaloes. This attracts surprise appearances of lions. They come with one mission in mind, to make a kill or die trying. You could spend the whole day here, but there is a whole park to explore. Something fun and captivating is always unfolding at the different corners of the park through the day. You can't miss it especially after travelling so far (over 500 kilometers from Kampala).
You will feel like you are exploring an undiscovered land as you drive through the open savannahs. There are hardly any cars in sight to interfere with the daily lives of the animals. As such, you will have no trouble seeing ostriches as they lay enormous eggs or a leopard as it climbs a tree and drags its kill onto the furthest branches. 
At the plains below the mountains, you will catch a chaotic scene as buffaloes take a mud bath in the riverbanks to Kidepo River. They do this to protect their skin from direct rays of the sun. 
With a little more work you during the night game drive, you can see cats in the middle of a hunting expedition. The take advantage of this time as their target prey have a poor night vision, unlike them. There´s a real adventure feel to witnessing this hunt.