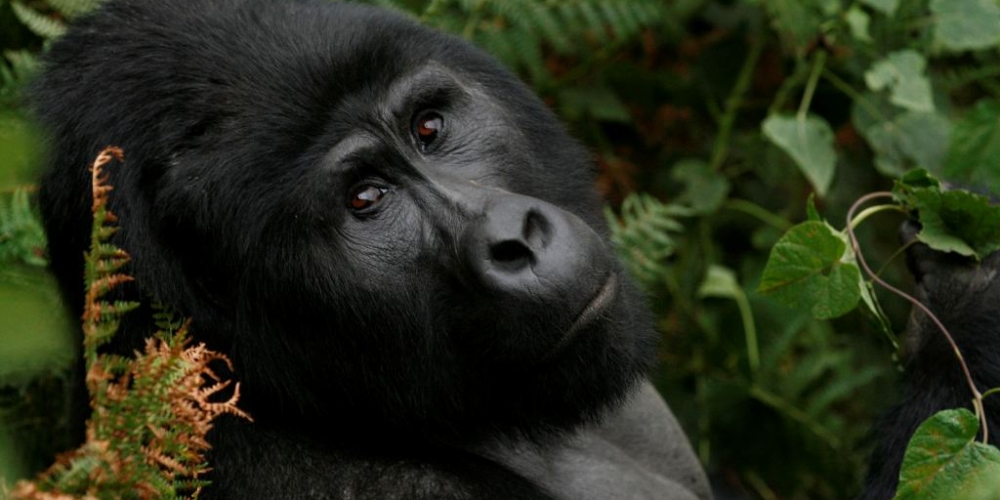 As you may be preparing for your gorilla trekking safari, here are the Gorilla Trekking FAQs (Frequently Asked Questions) you need to know about trekking the endangered mountain gorillas in Uganda, Rwanda and Congo (DRC) including gorilla trekking rules and regulations, gorilla permits, trekking time, packinkg list, among others.
How big is the team along which I will track gorillas?
Each habituated gorilla family is visited by a maximum number of 8 tourists per day. This makes it a small and intimate adventure. It also doubles your chances of getting good pictures as there will be lots of room while you are with the gorillas.
How far can I stay from the gorillas?
You will be advised to keep a seven meter distance from the gorillas so as to minimize the risk of their exposure to human-borne diseases. However, this rule is hard to keep up as infants of gorillas could wander closer to you out of a desire to play with you.
How can i obtain Uganda Gorilla trekking permits?
We strictly purchase gorilla permits from Uganda Wildlife Authority, the conservation institution that manages Uganda's national parks. It is the only Government agency authorized to sell or issue out gorilla permits As such, you will 100% chances of visiting and exploring Bwindi Impenetrable National Park and Mgahinga National Park—the two habitats for gorillas in Uganda. While permits for foreign tourists costs $600, foreign residents costs $450 and East Africans 250000UGX. The permit covers for the cost of entry into the park, photography fees in the park and a professional gorilla ranger guide who will accompany you during the gorilla trek.
How can i obtain Rwanda Gorilla trekking permits?
Gorilla Trekking in Rwanda takes place in Volcanoes national park and costs $1500 all tourists regardless of whether they are Rwandan nationals or not. Tourists who intend to tour other parks in Rwanda are eligible for 30% Discount (US$ 1,050) on gorilla permits during the low season of November – May. Want to trek in Rwanda, we are just an email away and ready to help you plan for your trip.
How can i obtain Congo Gorilla trekking permits?
Gorilla permits to Congo's Virunga National Park costs $400 for non-Congolese, $150 for Congolese Nationals and $250 for nationals of Southern African Development Community such as Angola, Botswana, Eswatini, Madagascar, Malawi, Mauritius, Mozambique, Namibia, South Africa, Seychelles, Tanzania, Zambia and Zimbabwe.
What is the process of booking a gorilla permit?
Look through your travel calendar and pick a date you would like to trek. Upon contacting us with this information in mind, we will check availability of permits for you and let you know if they have sold out. In case they, you can pick a separate date. Alternatively, we can offer you our pre-purchased permits. You can then proceed to send us payment that will be used in booking a permit slot for you in one of the five wings where gorilla trekking takes place. Next, we will email you an invoice from Uganda Wildlife Authority confirming your payment. The rest as they say will be history.
Can children trek gorillas?
Yes it is possible for children above 15 years to trek gorillas in Uganda and Rwanda. If your child is younger, they need clearance from Uganda Wildlife Authority first. Amazing Gorilla Expeditions is happy to help you with securing this clearance.
Gorilla Trekking Packing list
1. Comfortable hiking shoes: Mountain gorilla live in high altitudes where temperatures can drop to as low as eight degrees. For their body to be able the generate sufficient heat to help them overcome Hypothermia, males and females need to eat about 30kgs and 18kg of food respectively every day. To this effect, they spend the better part of their day wandering from one part of the forest to the other in search for food. As such, you are likely to spend 1-4 hours hiking back and forth in search for them during your gorilla excursion. Without good hiking boots, your legs are bound to sustain blisters. Water proof shoes with good treads are highly recommended.
2. Carry water proof gear and warm clothing: The parks in which mountain gorillas live are tropical rain-forests in high altitude settings. It can start to rain anytime regardless of whether it is a wet or dry season. Without water proof gear and warm clothing, you are bound to have an uncomfortable hiking experience.
3. Tag along with enough drinking water and lunch: Given the long duration the excursion could take over 2 hours, your body might dehydrate or run out of energy before the climax of the adventure. To this effect, we will avail you sufficient water and lunch at the start of your gorilla trekking excursion.
Gorilla Trekking Rules and Regulations
Flashlights are prohibited when taken pictures: The usage of flashlight when taking pictures of gorillas is not permitted. In part, this is because bright light irritates their eyes causing them to become insecure or restless. Films of 400-800 ASA will do just fine.
Avoid wearing bright clothing: Gorillas are disturbed by the sight of clothes with shouting colours as it deprives them of peace of mind. For instance, red traumatizes them as it is identical to the colour of blood. Accordingly, you are expected to wear earth colours like dark green, black, grey.
Keep low voices: Tourists often get carried away at the sight of gorillas as it such an emotional encounter. Some scream, ululate and exclaim aloud. However, it is strongly advisable to always keep a tone down your voice while in the presence of gorillas. They tend to walk away from noisy groups of tourists as they love utter peace.
Don't litter the park: It is prohibited to leave rubbish in the forest park—in respect to the ethics of conservation.
Why are mountain gorillas endangered?
One of the main reasons as to why mountain gorillas are endangered is the destruction of their forest habitats as a result of increased population growth in surrounding communities. This exposes them to inter human-wildlife conflict that subsequently kills them.
Secondly, though gorillas are not prime target by poachers, they often fall victim to their snares. This leaves them with severe injuries that expose them to life endangering infections.
Best time to see gorillas in Uganda, Rwanda and Congo
Dry months present better gorilla trekking experiences for two reasons. For starters, it is easier to take pictures of the gorillas as the park is less bushy at this time. Secondly, it is easy to search for gorillas as the tracks are less slippery. This is a huge advantage considering that the terrain of the parks is hilly with stretches of steep slopes. These months(dry) range from June to August and December to February.
Where is it possible for disabled persons to track gorillas?
Yes it is possible for disabled persons to track gorillas in Uganda's Bwindi and Mgahinga national park. This is thanks to the establishment of infrastructure that allows their easy movement. For instance, both parks have stretcher beds aboard which PWDs can be carried and fro habituated gorilla families in the forest.
How to save on a gorilla trekking excursion?
The primary target market for Rwanda's gorilla park is high end travelers. This explains why gorilla permits in it is priced at $1500 per person regardless of nationality. In contrast, Uganda targets the mid-range travelers and thus prices its gorilla excursions at $600 to foreign tourists-$450 for foreign residents and 250000 UGX for East African Nationals.
Why you should book your gorilla permits in advance?
Gorilla trekking is one of the most sought wildlife adventures in Africa. As such, permits often register a 90% sale out. They are issued to travelers on a first come-first serve basis.  As such, it is wiser to pre-book your permit at least six four months ahead of your planned time for visit.
How long do gorillas live?
The average life expectancy of a mountain gorilla is 35 years. However, it is not strange for some members to clock 60 years-especially females. The leading cause of deaths in most gorillas is arthritis-a health complication that arises from a combination of joint disease or joint pain. The other cause of death especially among males is severe injuries sustained from fights with rival groups. This usually results into profuse bleeding leading to death.
How big are gorillas? How strong are they?
Most scientific studies have come to the conclusion that while wild male gorillas weigh 136 to 195 kg (300 to 430 lb), adult females weigh about half 68–113 kg (150–250 lb). Adult males are 1.4 to 1.8 m (4 ft. 7 in to 5 ft. 11 in) tall, as female gorillas are shorter at 1.25 to 1.5 m (4 ft. 1 in to 4 ft. 11 in).
In comparison with man, gorillas are four-nine times stronger and can lift up to 815 kilograms (1800 pounds) of dead-weight. They can throw it with almost 450 kilograms (990 pounds) of force. Man can lift a maximum of 410 kilograms (900 pounds) and is roughly five times weaker than a gorilla.
Why do Silverbacks fight?
Gorillas are very territorial animals led by alpha males called Silverbacks. These leaders are never hesitant to fight off any animal they consider a threat to their families. The fight usually starts with beating their chests and hooting aloud. If the enemy doesn't show any signs of retreating, they fight violently with the intent of killing. Ironically, they are very peaceful to humans. This explains why over 2 Million people have tracked mountain gorillas in Virunga region over the last thirty years.