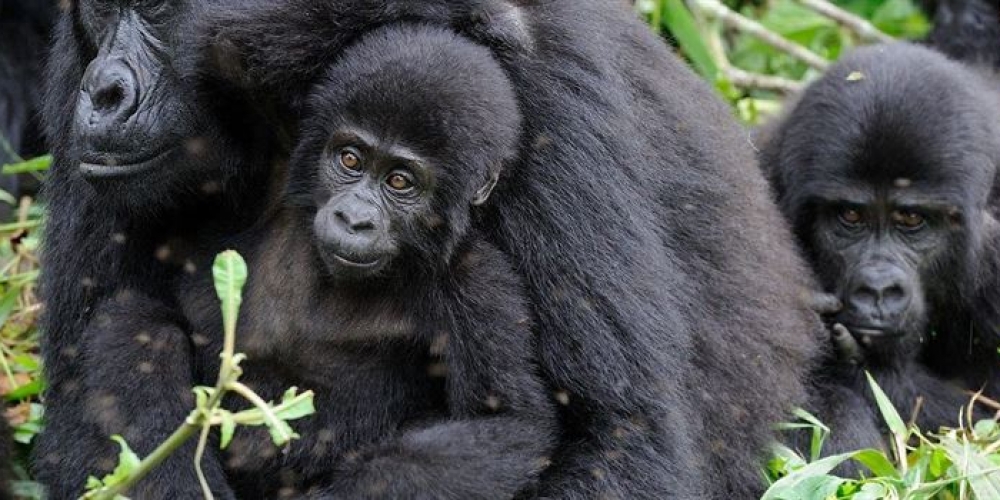 There are fifteen habituated Gorilla Families in Bwindi tracked by visitors on a daily basis. These are broadly classified according to their locality namely Buhoma, Ruhija, Rushaga and Nkuringo Regions
Buhoma Area
Mubare Group: Mubare is the most friendly gorilla family as it was the first gorilla group to be opened for visiting by tourists. This was in 1993, following a successful habituation process that lasted two years. Back then, it had 12 members and was led by Ruhondeza. He is remembered for having staged a historical battle in 1994 against Katendegyere gorilla family. His brave move enabled him to recruit six new family members, most of who later left his group in 1998 and settled into the neighbouring Virunga National Park. This happened two years after Ruhondeza was overthrown by his son Kanyonyi who led the new group till his death in December 2017. Kanyonyi is dear to the hearts of many tourists for having overthrown his insecure father who murdered five male gorillas born in the Mubare group. The family is named after a hilly location where they were first discovered over 25 years back. It now has eight members.
Habinyanja Group: This 17 member group is led by Makara, a silverback to whom power was smoothly handed by Silverback Rwansigazi. It is believed that Rwansigazi didn't make things hard for Rwansigazi as he was an adventurous soul. He found it more rewarding to keep adventuring travelling than to keep abiding routines that come with being a head of a family. His free spirit cost the group some members who left to form Rushegura group. These two groups still hold each other in high regard and never fight whenever they run into each other when wandering in Buhoma. The group's lowest moment was in June 2011 after they lost one of their blackbacks to poaching. It was the first poaching incident in Bwindi in over fifteen years. In an effort to turn things around, the park's security was beefed up thereby reducing the poaching rate by over 95%.
Rushegura Group: This group made headlines in 2002 by being the first group to peacefully secede from their mother group-Habinyanja. It has one silverback called Mwirima(25years old). The group is named after a setting where they broke off from Habinyanja group. It started out with 12 members, five of whom were recruited from Habinyanja. The rest joined from other groups after being inspired by Mwirima's dedication to create a stable family. Today, the group has 19members. They are passionate about exploring new places and destinations. The furthest place they have been to so far is Congo. They often wander into safari lodges around Buhoma.
Katwe group: Salt enriches the taste of food, making them for irresistible. Without it, our favourite cuisines would boring and hard to swallow. This explains how this  gorilla group came to be named after Lake Katwe. It is a mineral rich crater lake in Queen Elizabeth National Park. Here, salt mining has been taking place for over a century and has catered for countless generations. Katwe is composed of a dominant Silverback, two babies and four adult females who live in the Northern part of Bwindi, Buhoma. A visit to them will spice up your life with sweet memories of gigantic gorillas that are unstoppable. They are daring enough to swiftly swing from one tree to another despite their heavy weight. They mostly do this in a spirited search for fruits that flourish in the canopy.
Ruhija Region
Bitukura Group: This group's number has reduced from 24 to 14 members. While this loss was expected to devastate the group, it has instead brought the closer. Given their small number, they always look out for each other. They live under the guidance of Ndahura, the second youngest silverback in the group. He succeeded his father Karamuzi when he started to lose control of the family after old age caught up with him. He is estimated to be 40 years and still lives in the group which now has a five year old baby. Karamuzi is Ndahura's son. Bitukura has four silverbacks. While it takes two years to habituate most gorilla families, it took only 15months for Bitukura as they are very friendly and welcoming.
Kyaguriro Group: Initially, this group was reserved for research and other scientific studies relevant to understanding gorillas better. However, it was been opened for tourism two years ago due to increased demand for gorilla permits. It is led by Mukiza and has 10-15 members. It is led by Rukina who banished Zeus his aging predecessor. He died in exile due to old age.
Oruzogo Group: Oruzogo has a thriving population of 23 members including two silverbacks. Since it was opened for tourism in 2011, the group which is led by Tibirikwata has registered about five baby births—all of whom are still surviving. Its family name comes from Oruzogoto, a plant with a rich concentration in Ruhija. The group is an envy of many Gorilla groups because of its huge numbers. This is because the animal kingdom derives its strength from having big numbers of affiliates. All members of this group have been named basing their characters or appearance. For instance; while Karimi(meaning tongue) one of the juveniles loves to stick his tongue out while playing—Bwoba(meaning fearful) is quite a coward who can't stand a fight.
Rushaga region – Southern Bwindi Forest
Mishaya Group: This family is named after its leader Mishaya, an ambitious silverback that broke off from the Nshongi group in 2010 to start his own group. He fruitfully scouted for females and infants from the other families thereby bringing the number of his members to 12. Mishaya is immensely loved by his family as he is so protective of them and never hesitates confronting any gorilla that threatens their wellbeing or his.
Nshongi Group: Nshongi once had 36 members. However following a break off in mid-2010-the group now has 26 members and is hence the biggest habituated gorilla family in Bwindi. One of the unbelievable things about this family is that it has four silverbacks, all of whom are submissive to the group leader Nshongi—their junior sibling.
Kahungye and Busingye family: Named after a hill where they love to range, this group is led by Rumansi and has 13 individuals. Three of these are silverbacks. Until late 2012, the group had 27 members, 14 of whom left to form Busingye Gorilla Family. The latter group is led by Busingye. Today, Busingye group has 9 members. He knows he is powerful as he has a huge physic. This has boosted his confidence enabling him grab females from gorilla families that come in his way.
Bweza Group: World over, 9 is known as known as a number of perfection. This family has 9 members and the tracking experience it offers is nothing short of perfect. At the time of its breaking off from Mishaya group, it had six members. Among its current 9 residents, 3 are babies. Wear good hiking shoes when coming to see this group. Some parts of the pathway are very slippery. The ranger guides will have your back as you counter steep slopes, reducing your chances of falling over.
Nkuringo Region
Nkuringo Group: Nkuringo Group has 12 members. It was the first gorilla family to be habituated in the Southern region of Bwindi. This was in 1997. The group was the first to witness the birth of twins in Bwindi. This was in 2004, a time when it still hard 17members.
Bikingi Group: This group is for travellers who want to know what happens behind the scenes as rangers habituate gorillas. Habituation is the process where wild gorillas are made to get used to the presence of humans of different skin colour and various appearances. It currently has 15 individuals, 1 silverback, 2 sub adults, 5 adult females, 5 infants and 2 juveniles. Its group leader hasn't yet been identified as of now as the habituation process is still ongoing.
Bishaho Group: This 8 member group dispersed from Nkuringo family and is headed by Bahati, a discreet silverback. He has 3 adult females, 1 blackback, 1 sub-adult, 1 juvenile and 1 infant under his care. The group is named after the locality where they forage. It was habituated in 2012.
Christmas Group: Christmas has a very special place in the hearts of billions of Christians around the world. It is synonymous with the birth of a world Saviour, Jesus, a prophet who welcomes all people regardless of their background or race. Taking inspiration from this background, the park rangers at Bwindi Impenetrable National Park couldn't imagine giving this gorilla family any other name. The group comprises of 9 members all of whom are very welcoming to all tourists no-matter their skin colour or character. This explains why over 3,000 tourists have come to Bwindi with the sole purpose of seeing it. This follows the successful completion of its habituation few months back. You won't have a hard time taking pictures of its black back, three females and a baby. They love posing for the camera.