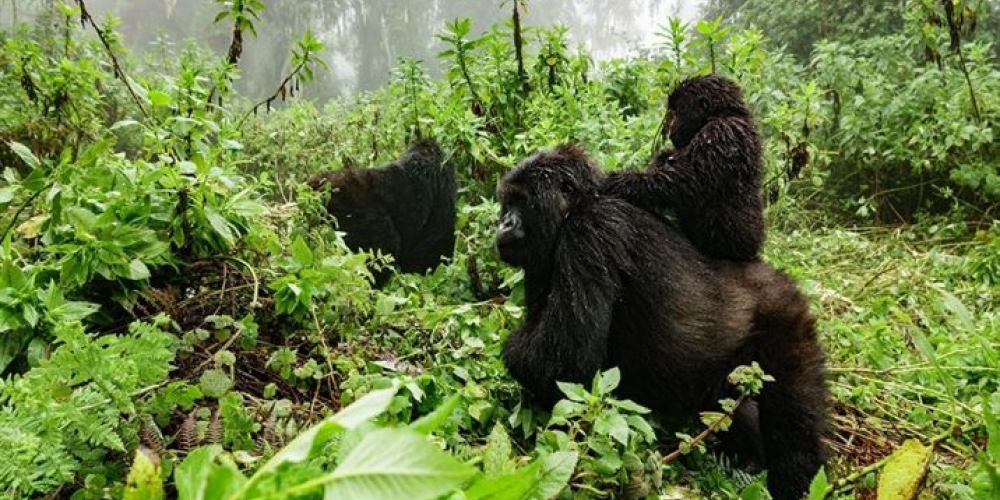 There are ten (10) Rwanda Gorilla Families habituated for visitors to trek and one set aside for research from which the Kwita Izina baby gorilla naming ceremony are selected. Each gorilla group has distinct and unique characteristic quiet different from another.
Agashya group
When you look at the 27 members of this group, you will be left wondering how they are able to tell each other apart. The body features are so identical. Interestingly, the ranger guides have deep knowledge about them having been monitoring them since the time of their habituation. Using this prior exposure, they will identify for you the different individuals. They will also be in control of the expedition—ensuring you don't miss out on anything captivating. The group is currently led by a silverback called Agashya who had to overthrow Nyakarima before taking over the throne. At the time of their habituation over six years back, the family had 13 members. Today they are 27.
Sabyinyo group
Gorilla trekking is usually synonymous with braving a tough climbing challenge that pushes one to the limits. Fortunately, this group is exceptional to that. You don't have to go through hell to see it as it lives within the lower slopes of Mountain Sabinyo, a rolling landmark after which it is named. The pathway leading to it is free of hiccups. Better still, the ranger guides are great at figuring out where to find them. As such-you will be able to see its 12 members within two hours. In a bid to protect his territory from and secure his position as alpha male, Guhonda the leader of this group chased Ryango his competitor into exile. Lucky for him, he is the most gigantic silverback in the park and weighs over 220kg, a gigantic physic that most gorillas can only dare in their dreams.
Titus Family
This group spends much of the year on the eastern slopes of the Karisoke volcano. It is named after its former leader Titus, a silverback whose birth was witnessed by Dian Fossey. Not so long after his birth, Titus was adopted by a group of unrelated gorillas. This followed a brutal poaching incident around 1978. It claimed the lives of his father, brother and uncle-Digit, Dianne Fossey's favourite gorilla. The tragedy left his mother and sister afraid for the worst, prompting them to join other families where they were offered security. Titus is the good looking gorilla that was featured in "The Gorilla King" a documentary film by BBC that took 2008 by storm. He was also featured in "Gorillas in the Mist", a filmed centered on the life of Dianne Fossey. Prior to his death in September 2009 at the age of 35. During his lifetime, he fathered 20 babies with five females in his group and others.
Amahoro group
In Kinyarwanda, Amahoro is used to refer to someone or something whose peacefulness is profoundly inspiring. This is exactly what you will experience when you visit this gorilla family of 18 members; all of whom are very tolerant and accommodative. Their way of life is inspired by the nature of their team leader Ubumwe. He is a calm giant who believes there are other effective ways to solve problems without resorting to violence. Unfortunately, this philosophy has always failed him when it comes to protecting the loved one's under his care from attacks by rival gorillas such as Umubano. As such, it is only a matter of time before he will be overthrown by one of the 2 black backs in his family. If this doesn't happen, several individuals in his current care will join other groups—that are willing to protect for them.
Susa A Group
It is very rare for a mountain gorilla to give birth to twins. When they do, chances are high that their abandon one of their children. Surprisingly, a mother in this group of 33 members did otherwise by choosing to raise both of her playful twins; Byishimo & Impano.  This is one of the things that draw most tourists to this group—apart from the fact that it was once the biggest gorilla families, boasting of 42 members. Its rebellious members' disintegrated from it to form Susa B or Karisimbi group.
Umubano group
Nobody in a sound mind state wants violence as opposed to peace. And that is how this group was formed. Tired of the unending battles in Amahoro group, Charles a dominant silverback broke away with some members who believed in him. They formed this group whose name comes from a Kinyarwanda word which means living together. The group has 13 individuals; one silverback, a blackback, six infants, three adult females.
Susa B, also known as Karisimbi group
At the time of writing this profile, this group comprised 15 members living on the slopes of Karisimbi Mountain. Its founding members split off from Susa A group after it became hard for its leader to effectively look after its huge population of 42 members. Susa B group is mostly pursued by tourists who love tough climbing challenges. Why? It stays in higher ranges of Mountain Karisimbi-Rwanda's highest Mountain (4507M). Thanks to the extra efforts of rangers though, you have a 90% chance of catching up with all members of this group anytime you visit the Volcanoes National Park.
Hirwa group
This is one of the only five gorilla families in Virunga region that have twins. It lives up to its Kinyarwanda name which means lucky one. Regardless of the time of year you intend to visit them-you will be fortunate to be welcomed in into their circle. They group was formed in 2006 and resides in the ranges mountain Sabinyo.  It has 16 members most of whom broke off from Sabyinyo group and Agashya
Kwitonda group
This group migrated from Congo's Virunga National Park in 2003 to avoid the stiff competition with the over 400 gorillas to which it is home. It settled at the lower slopes of Mountain Sabyinyo and Mountain Mgahinga where there is plenty to eat. It is named after its leader Kwitonda, a humble silverback that passed on in September 2012 at the age of 40. Akarevuro, one of the dominant silverbacks in the group has taken charge of its headship. The group comprises of 23 members amongst which include three silverbacks. Apart from Akarevuro, the other two silverbacks are Kigoma and Magumu, both of whom are submissive to the current team leader.
Bwenge group
This group was also featured in Gorilla in the mist, the movie about Dianne Fossey. Why? Its leader Bwenge, 28, is the son of Titus - one of the most authoritative silverbacks that ruled Volcanoes National Park. Bwenge split from Beetsme's group in early 2007 to form his own group. He was followed by two females from his former group. Few months' later, females from Pablo's group also joined Bwenge's group helped him a lay a strong foundation for a small kingdom that now boasts of 11 members. They spend much of the year in the slopes of Karisoke volcano.  The group has fully recovered from the death of 6 infants, a disturbing misfortune that left them devastated few years back.
Ugenda group
This is perhaps the most adventurous gorilla group in Greater Virunga Region. They are always on the move to discover the different wonders of Volcanoes National Park and its two sister parks-Mgahinga and Virunga. As such, pursuing them is not one of those treks where everything just falls into place. It is made of 11 members including 2 silver backs. If you want a challenging gorilla trek that will allow you explore the virgin parts of the park, this group is for you.