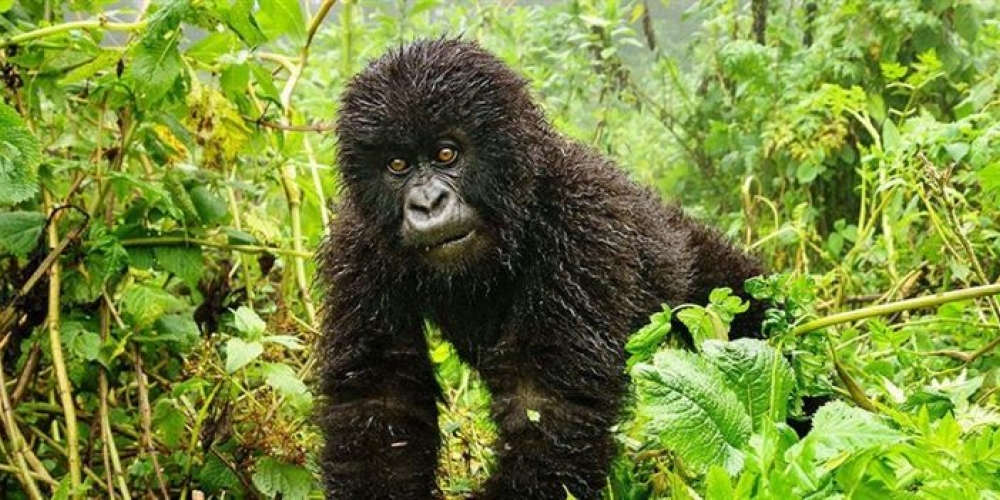 Litter free, safe, well maintained and eco-friendly, Mgahinga Gorilla National Park is everything you could ever imagine of an eco-tourism destination that is worth travelling thousands of miles to visit. It is spread over three cone-shaped volcanoes whose summit pierces into the clouds, at an altitude of between 2,227m and 4,127m. Mgahinga Gorilla N.P is Uganda's smallest park and covers 33.7Km2. This "one in a million" destination sits along Uganda's borders with Democratic Republic of Congo and Rwanda.
You can't go wrong with Mgahinga if your cup of coffee is mountaineering, pursuing historical trails or tracking gorillas.
Gorilla tracking in Mgahinga Gorilla National Park
It has the Nyakagezi group, a family comprising of 11 members of different age brackets. This offers one a deep understanding of how gorillas behave at the different stages in their life. Mgahinga Gorilla National Park's residents include 4 silverbacks, 2 adult females, 2 blackbacks, 2 juveniles and 2 infants. One of the intriguing things about this group is that its oldest silverback-Bugingo is estimated to be as old as Uganda, 56years. This makes it one of the 10 oldest mountain gorillas left in the world. Despite having been overthrown by his son Mark as leader of the clan, he still lives in the family. This is a historical occurrence as it is very unusual for once dormant silverback to stick around after being overthrown. In most cases, they prefer to seek refuge from other Gorilla groups and start over, or chose to die in isolation.
On setting foot in the forest for gorilla trekking, the pace of your trek will be slowed, so as to enable you take pictures of whatsoever fascinates you. It could be plants with unique shapes, endemic butterflies or birds with stunning feathers. Each sighting will be accompanied by an enlightening explanation by the ranger guide leading your group. After this, you will continue with the search for the gorillas starting at the nest where they spent the previous night.
You will follow their spoor and dung through tangled undergrowth and a bamboo forest until you reach a random location where these soulful-eyed creatures are grazing. On hearing them from a distance, you are bound to panic in fear for the worst as they don't sound friendly! Worry not; they look beastly on the outside because they are three times more enormous than an average human male. However deep down they are so peaceful and loveable.
One of the biggest highlights of the tour is watching the endless games of the golden monkeys. They offer a brief look into their daily lives.

Batwa experience in Mgahinga Gorilla National Park
During your visit to Mgahinga Gorilla National Park, you could also explore a spacious underground cave where the Batwa tribe used to live prior to their eviction from the forest in 1991. They are a native tribe of people who are very short in stature. They come across as very cunning and knowledgeable. Since their eviction from the park, the Batwa tribe has become endangered with a present population of less than 500 people.
During this day long tour, they will showcase to you their ancient practices and ways of life such as making fire using the Stone Age concept of friction—by vigorously rubbing two pieces of wood together. They will also exhibit how they used to hunt gigantic animals using simple tools like spears, and how they used to harvest wild fruits. At the end of this tour, they will give you an opportunity to buy some handmade local crafts like baskets and toy gorillas curved out of wood.