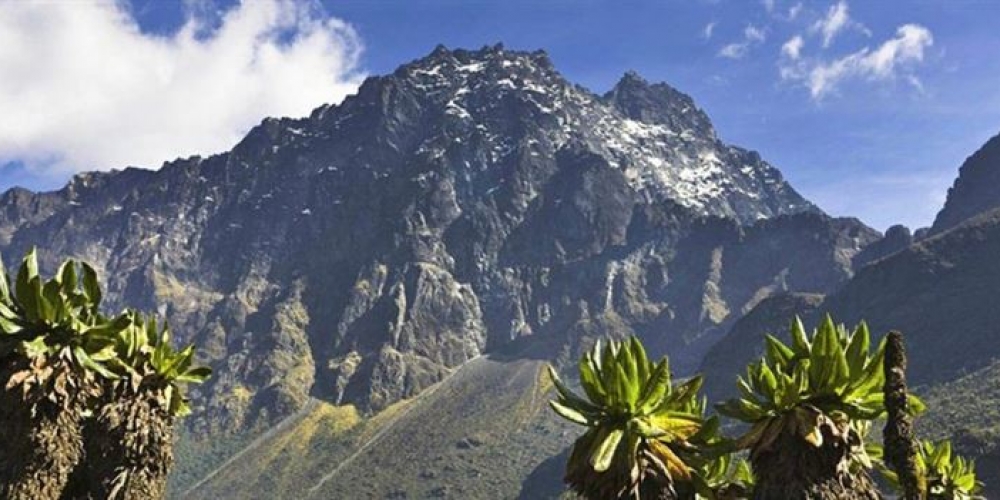 When you catch a glimpse of the enormous Rwenzori mountains, your heart will leap and your soul will calm. It rises to a glorious fairyland between heaven and our planet and takes you with it. Talk about Margherita, the third highest peak in the continent, standing at 5,109m above sea level. Less than 1% of Africa's surface area has permanent snow all year. Rwenzori is one of them and yes, it is true that no other mountain in Uganda touches the sky as high as Rwenzori's magnificent peaks. As listed from the highest to the lowest, these block mountains include; Stanley (5,109metres), Speke (4,890metres), Baker (4,843metres), Emin (4,798metres), Gessi (4,715metres), and Luigi (4,627metres). As the wind blows, it piles upon them snow and ice-white dust that blinds the scene. This isn't to say that they are impossible to explore. On the contrary, they are easily accessible thanks to the wide network of well developed tracks leading to them. These include a route called central circuit. It is loved for the easy climbing challenge it offers. On average, it takes tourists six days to traverse all its five vegetation zones before ascending from an altitude of 1800m to Margherita. These comprise of Afro montane forests (1800-2500m), Bamboo-Mimulopsis (2,500-3,000m), Heather-Rapanea (3,000 to 4,000m), Alpine zone (4,000-4,500m). The Glacier zone is followed by the snow zone from 4,500m-5109m.
On the other hand, Kilembe route is loved by tourists who want lots of photographic opportunities. Everlasting wild flowers and the rocky rugged terrain add to a memorable experience. The air on the mountain is free of impurities, very crisp and relaxing. At the break of dawn, gorgeous montane vegetation such as giant lobelias open their bright petals to add beauty to the scenery. From its highest hut, Elena, you will behold sunset as it cast its bright orange rays down upon white snow on the surrounding peaks. Its warmth will excite birds to fly in the sky, creating stunning silhouettes. You will never see such a picture perfect scene.
As snow melts from Rwenzori's glaciers, it creates meandering rivers that speed down through the valleys. It pours into scenic crater lakes that are surrounded on the sides by towering rock walls. Most of them have fascinating shapes. This includes the shape of the heart and the shape of Africa's map. However, you won't realize this unless you climb to the edge of slightly higher rocks. The views from here will leave you with tears of joy. The water in turn feeds lakes in national parks at the foothills of Rwenzori; Lake Edward and George (Queen Elizabeth) and Lake Albert (Semuliki National Park).These vast freshwater bodies subsequently pour into River Nile thereby adding its force.
In general, the hiking experience in Rwenzori presents a great opportunity to stretch your legs and shed off extra weight. The weather here is unpredictable yet never extreme to spoil the fun of hiking. Both trails leading to the higher altitudes are well maintained and offer pleasant hikes. They also feature well insulated huts where you will stay as you hike. They (trails) slither through overlapping mountain rangers. As such, you will spend much of your time ascending. Just when it seems like you have run out of energy, you will meet a curvy turn that descends gently down the slopes.
Rwenzori is a legendary mountain with lots of history and divine significance to the Bakonzo tribe who consider it as the home of their gods. This spirituality surrounding it is just waiting for you to come and explore.