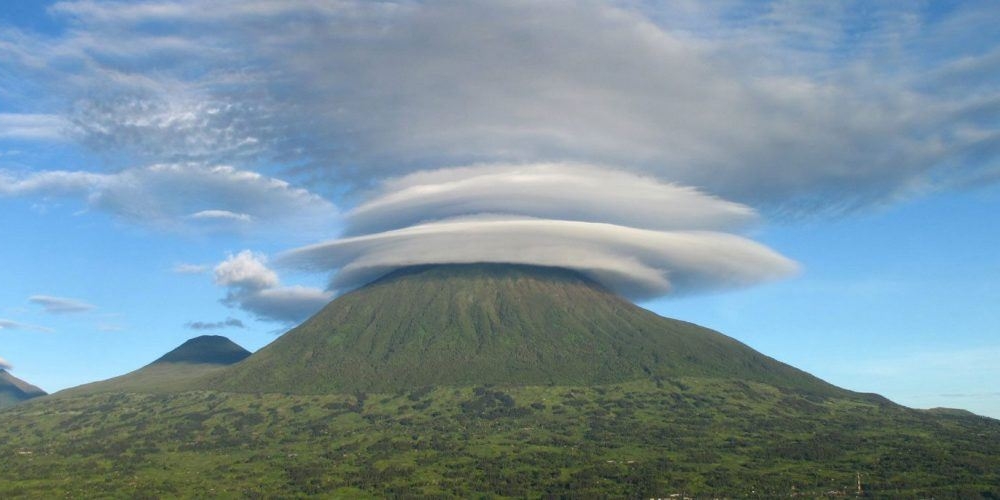 The Virunga Mountains is a collection of eight hour-glass shaped volcanoes found swathing along the borders of Uganda-Rwanda and Democratic Republic of Congo. Happiness and disbelief will roar through as you gaze upon these mountains which cover a stretch of 80 kilometers of the Albertine Rift Valley, starting from Lake Albert and ending in Lake Kivu. They are truly awe-inspiring. Together with the Albertine Rift Montane forests on their slopes, these mountains form part of the larger Virunga Conservation Area, the only habitat for the world's surviving Mountain Gorillas, scientifically known as Gorilla beringei beringei. Virunga Mountains features a mix of both active and dormant volcanoes that offer astonishing hiking experiences. They include:
Mountain Muhavura
If you love tough climbing challenges, you should add this majestic mountain to your bucket list. A beautiful cloud of mist always hovers over its ragged summit peak which soars at 4,127m (13,540ft) above sea level. While its slopes are endowed with four vegetation zones ranging from a tropical forest to heather zone, its summit has scenic Crater Lake with crystal clear rain-water.
Due to its steep gradient, descending down Muhavura's slopes is almost as exhausting as hiking up but worth all the trouble. From its summit which lies at the border of Uganda and Rwanda, you will be treated to astonishing views of the twin lakes of Bulera and Ruhondo (not so far from Volcanoes national park). You will also see five volcanoes in the Virunga massif, the nearest being Mgahinga and Sabinyo.  In short-hiking this mountain is full of picturesque encounters. Given that the altitude of Kisoro, the district in which it is found is 1890 meters above sea level, it is wiser to arrive at least 24 hours ahead of your planned hike. This will enable you acclimatize. The hike will start at the height of 2200 meters, ascending to 4,127m (13,540ft) above sea level over a distance of approximately 8 km.
Mountain Sabyinyo
The border of Uganda, Congo and Rwanda intersect at the indented summit of this mountain. This presents a lifetime opportunity for you to be in all the three countries at the same time; probably with your feet in Uganda, your left hand in Rwanda and right hand in Congo.
To get to its highest point which stands at 3,674m (12,050ft) above sea level, you will have overcome three rolling peaks. The first peak is at 3423 meters. It is fairly steep near the top, but like the other two peaks, it is easy to manage for as long as you go with a positive attitude.
Bring a water-proof backpack cover and warm clothing gear when climbing this mountain.
It can start to rain anytime. Nonetheless, hiking it is a beautiful and breathtaking experience. Considering that it is somewhat challenging, you will be allowed to take frequent breaks so as to regain energy. This makes the experience very pleasant.  The higher you go, the better the bird's views you will get. We will offer you a decent pair of binoculars because the detail and the view you can get through binoculars priceless.
Mountain Nyiragongo
There are very few active volcanoes in Africa that are safe to explore (because they rarely pose a danger to human life). This sensational landmark which is found in Democratic Republic of Congo is one of them. It last erupted in 2002 and since then, it has been gentle. It stands at an elevation of 3,470 m (11,380 ft) above sea level. Its main crater area is about 2kms wide. Atop the crater floor at its summit lays a lake of bubbling magma that is surrounded by walls of earth and solid larva ash. It is roughly 600ft wide and 60ft high.
As it boils vigorously, it produces roaring waves and a bright fiery glow that lights up the scene at night. Its energy and latent danger showcases an impressive display of the power of nature. It such a moving spectacle, the type you would want to behold forever. Luckily, there are triangular shaped sleeping huts at the edge of crater rim where you can stay as you do so. They have spongy mattresses and pillows which provide suitable padding to sleep on. Ironically, the temperature at the top is very cold. This is because a cloud swirls around the rim of the crater. To this effect, sleeping bags are available for hire in case you need extra comfort.
Mountain Gahinga
Mgahinga is the smallest of the Virunga Mountains and it is from it that Uganda's smallest park got its name-Mgahinga national park. Its ranger guides are eloquent and genuinely care about the well-being of tourists. Yes it is true that the trek is challenging since it is steep and at a high altitude. However, you don't need complicated equipment or prior experience to be able to pull it off. Some basic level of fitness and good hiking shoes will do just fine. It will take you roughly 4 hours to make it to the highest summit and two hours to descend.
Prior to the start of the hike, you will be divided into groups according to your level of fitness. The guides who will be entrusted with looking after you understand the hardships of ascending to higher altitudes. They are thus very patient and encouraging. The view of mountains in Uganda and Rwanda in each direction from Mgahinga is nothing short of spectacular. The mountain stands at 3,474m (11,400ft) above sea level.
Mountain Karisimbi
Karisimbi's sky hugging height of 4507 meters above sea level qualifies it as the highest mountain in the Virunga Mountains volcanoes.  Karisimbi offers one of the most remote, rare and rewarding treks. On your way up its meandering trail, you will come across buffalo tracks. You will be accompanied by an armed ranger whose purpose is to share with you interesting details about the park and to protect you from angry-wild elephants in case any comes your way. No he won't shoot at them; he will shoot in the air to scare them off.
After walking for some time through forest and bamboo zone, you will start to come across beautiful giant lobelia plants. The hike is generally free of crowds and quiet, with random soothing calls of birds. It is an experience for meditation. This mountain deserves two days in your travel schedule. On the first day, you will climb to its summit for an overnight camping experience. During this night, you will be blown away by enchanting views of the Mount Nyiragongo's lava lake. On day 2, you will descend back to the starting point.
Mountain Mikeno
This is Virunga's second highest Volcano at 4437 meters above sea level. It promises the toughest climbing challenge of all the mountains in the region. This partly because its trail is steep and hasn't been well developed for tourism. It is a virgin territory that has undergone very minimal disturbances from man. That is why it is a favorite among nature lovers who desire for the raw feel of adventure. If lady luck sides with you, you might find one of the gorilla families to which it is home—while hiking up.
The hike starts off innocently with mildly slopping grasslands. Before you know it, this starts to quickly change to a steep jungle that thins to a forest of oddly shaped ragged trees. Along the way, you will find makeshift stairs built from firm logs. One of the most fun parts of the adventure is when fog suddenly rolls in to tease you will its rejuvenating freshness. During this time- you can't see anything as it is too thick. Fortunately, it happens so fast thereby allowing you to proceed.
Mountain Nyamuragira
This is the only mountain which is not open for tourists as it is the most active volcano on the African continent. It has erupted over 40 times over the last 13 decades. Its last eruption was in January 2010. It flowed over a radius of 25 kilometers. It sits in Goma, a town in Congo. It is adjacent to Mountain Nyiragongo and neighboured by Lake Kivu—25 kilometers on the South. It has an active lava lake which is boiling and waiting for the perfect time to set the world around it on fire.
Mount Bisoke
This impressive mountain in Rwanda can be seen from miles around. It has a crystal clear crater lake that is preceded by a bamboo zone and tropical forest. The adventure to its peak starts early at 7am so as to maximize one's chances of seeing the beauty of the park and arriving before it starts raining or getting dark.  The zigzag path leading to the top of the mountain is well maintained and free of litter. Its erosion is well controlled.
Considering that several stretches of the ascent are very steep and require ascending very first, the tip of your toes will constantly poke the tip of your shoe. They could end up getting bruised. It is quite a painful experience that subsequently ends up with the nail finally falling off. Against this background, you are better of cutting your toe nails short. Be prepared to climb ladders in the last stretch.
Travel tips for Virunga Mountains hiking
Altitude sickness in Virunga Mountains: This  begins at about 3000 meters above sea level. If you suddenly start to feel signs like loss of appetite, a headache, nausea and shortness of breath, inform our guide right away. That said, the condition is very avoidable. Only two of every 10 people we take for hiking fall victim. To minimize on this possibility, we shall take the adventure nice and slow thereby allowing you to acclimatize.
Best season for hiking Virunga Mountains: June to August presents a more rewarding and easier hike as it is a dry season in this part of the earth. Mountains that can't be hiked at the moment. Virunga National Park has been closed until the end of 2018 over security reasons. Amazing Gorilla Expeditions will let you when it reopens such that you can seize the opportunity to visit and hike Nyiragongo or any mountain in Congo.