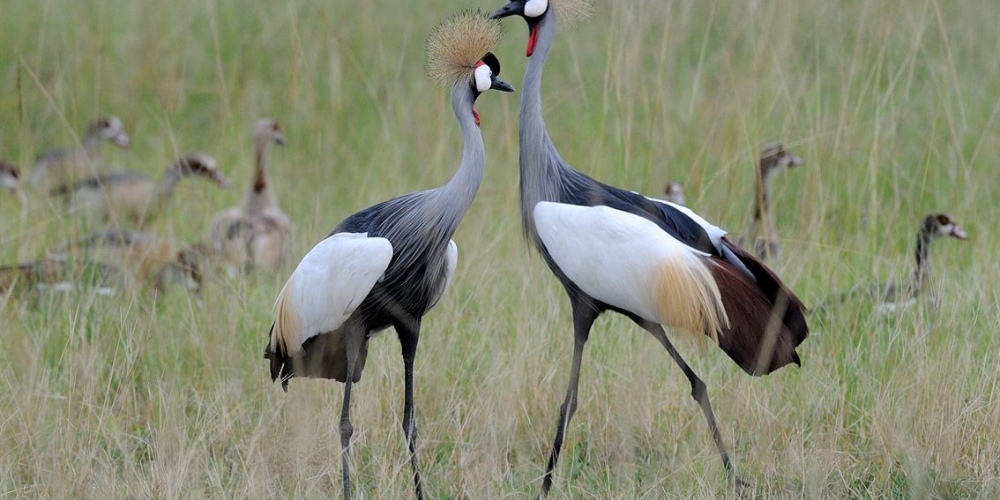 Overview
This Birding and Wildlife Safari is one of the long birding safaris that we offer in Uganda. This birding tour explores the best of the Albertine rift from Murchison Falls National Park down to the South western part of Uganda in Mgahinga National Park. Other notable highlights of this tour are the chimpanzees in Kibale Forest National Park, the mountain gorillas in Bwindi Impenetrable National Park and the golden monkeys in Mgahinga Gorilla National Park.
Itinerary
Entebbe / Kampala to Murchison Falls National Park
Early morning departure for Murchison Falls National Park. Drive through Nakasongola, Luweero and Masindi arriving in time for lunch in Budongo. After lunch, bird the Kaniyo Pabidi section of Budongo forest with a new discovery for Puvell's Lladopsis, Black-billed turacco, narina tragon, blue-throated roller and Fire-crested alethe. Some other species which can also be seen include blue-throated roller, and grey-chinned sunbird. You might also have chances of seeing primates in the forest like Chimpanzees, Monkeys among others. Dinner and overnight at your lodge.
In Murchison Falls National Park
Enjoy a morning game drive and an afternoon game drive. Both the game drives and the launch trips offer an opportunity for one to come across distinct bird life, including savannah forest birds, water birds and Albertine Rift endemics. The park has 75 species of mammals and 451 species of birds inclusive of the shoebill, the most sought bird species in Uganda. Common species that you will encounter whilst on the game drive include the Marabou Stork, Abyssinian Ground Hornbill, Secretary Birds, Black-bellied Bustards, Open-billed Storks and Widow Bird.
On the boat cruise to the bottom of the falls, watch birds lining at the banks of the river including snake eagle, fish eagle, Egyptian goose, the African darter, bee-eaters, Goliath heron, Red-Naked Falcon, saddle billed stork let alone animals including hippos, crocodiles among others.
Today, we will wake up early in the morning to catch up with the early risers. The day begins with a delta cruise downstream the Nile to Lake Albert looking out for the sought after Shoebill stork. Thereafter, exit the park and take a gentle drive to Hoima for overnight.
Hoima to Kibale Forest National Park
After morning breakfast, check out and take along drive south to Kibale Forest National Park through local villages and astonishing view of tea plantation sceneries en route. Bird your way to Kibale before settling in at your lodge.
In Kibale Forest National Park
Start the day with an early morning walk viewing birds in Kibale forest which is known to have over 320 recorded bird species including the Green-breasted pitta, African pitta, Abyssinian ground thrush, Crowned eagle, Dusky crimsonwing, Black-capped apalis, Collared apalis, Purple-breasted sunbird, Black bee-eater, Yellow spotted nicator, Little greenbul, Black-eared ground thrush, Brown-chested alethe, Yellow-rumped tinker bird, Blue-breasted kingfisher. In the afternoon, transfer to the park headquarters at Kanyanchu for briefing before heading out for chimpanzee tracking in Kibale Forest.
Kibale to Queen Elizabeth National Park
Morning birding in Bigodi swamp trails looking out for the great blue turaco, hornbill, waxbill, weaver, cuckoos, kingfisher, flycatcher. Thereafter, depart Kibale for Queen Elizabeth National Park. Have an introductory game drive as well as evening bird watching upon arrival in Queen Elizabeth. Look out for species like the Brown Snake Eagle, Wahlberg's Eagle, Bateleur, Long-created Eagle, Martial Eagle, Grey Kestrel, African Crake, Black-bellied Bustard, Temminck's Courser, African Wattled among others.
In Queen Elizabeth National Park
Start your day with a game drive in the Kasenyi plains for more wildlife experience with savannah-bound bird species in areas surrounding salt lakes like Lake Katwe, Bunyampaka among others. On the game drive, you will also see bird species like Guinea fowls, the black bee-eater, Palm-nut Vulture, Hooded Vulture, Black-bellied Bustard, Temminck's Courser, African Wattled Plover, Crowned Plover, Senegal Plover, Kittlitz's Plover, Rufous napped Lark, Flappet Lark, White-tailed Lark, Brown-backed Srub-Robin, Black-crowned Tchagra,  among others. Animals that you will encounter include elephants, Kobs, buffalos among others.
In the afternoon, we will go for a boat cruise on Kazinga Channel that is a home to different bird species including the pied kingfisher, African fish eagle, cormorants among others.
Queen Elizabeth to Bwindi Impenetrable National Park
Have your last morning birding in Queen Elizabeth and the surrounding areas. Thereafter, bird your way as you drive to Bwindi Impenetrable National Park for overnight.
In Bwindi Impenetrable National Park
Early morning, go for a whole day birding in Bwindi starting with areas surrounding the park. Species expected here include; the Handsome Francolin, African Wood Owl, Rwenzori Nightjar, Bar-tailed Trogon, Black Bee-eater, Western Green Tinkerbird, Dwarf Honeyguide, Fine-banded Woodpecker, African Green Broadbill, Grey Cuckoo-shrike, Shelly's Greenbul, Yellow-streaked Greenbul, Red-throated Alethe, Archer's Robin-Chat, White-bellied Robin-Chat, Mountain Yellow Warbler, Grauer's Rush Warbler, Red-faced Woodland Warbler, Rwenzori Batis, Strip-breasted Tit, Tit Hylia, Purple-breasted Sunbird, Blue-headed Sunbird, Regal Sunbird, Dusky Twinspot, Dusky Crimsonwing. Just a few out of the 320 recorded bird species in Bwindi.
In Bwindi Impenetrable National Park
Early morning breakfast and together with our packed lunch boxes and bottled drinking water, report to the Uganda Wildlife Authority Offices in Bwindi for pre-briefing prior to your gorilla trek. In your group of eight and under the guidance of an experienced wildlife ranger, go looking for the "Gentle Giants". The guides will take you to the place where the Gorillas where seen the day before and follow the trail to the place where they spent the previous night! You will then follow the trail of broken branches and droppings to where the Gorillas are. Enjoy the unforgettable and emotional experience of your life as you come face to face with these Gentle Giants!!! You will spend a maximum of 1 hour with the Gorillas whilst enjoying photo moments. After your gorilla adventure, return to your accommodation and stay at leisure the rest of the day.
Bwindi to Mgahinga Gorilla National Park
Morning bird watching in Buhoma through "The Neck" where you may see the strange grauer's warbler, white-brown crombec, the rare Jameson's antpecker and others. Thereafter, drive to Mgahinga National Park or Kisoro for an evening rest before dinner and overnight.
In Mgahinga Gorilla National Park
Bird Mgahinga Forest where you will see most of the Albertine Rift valley endemic species including; the Handsome Francolin, Dusky Turtle Dove, Rwenzori Turaco, Barred Long-tailed Cuckoo, Dusky Long-tailed Cuckoo, White-starred Robin, Equatorial Akalat, Red-throated Alethe, Archer's Robin-Chat, Kivu Ground Thrush, Banded Prinia, Grauer's Warbler, Chestnut-throated Apalis.
Mgahinga to Lake Bunyonyi
Morning breakfast and depart Mgahinga for Lake Bunyonyi - "the place of little birds". Upon arrival, have the rest of the day birding at Lake Bunyonyi. Lake Bunyonyi is home to over 200 bird species including egrets, herons, the grey crowned crane, the white tailed blue monard, the African Harrier Hawk, slender-billed baglafetch, levillant cuckoo, levillant cuckoo, and the cardinal woodpecker among others.
Lake Bunyonyi to Lake Mburo National Park
After morning breakfast, bid farewell to Lake Bunyonyi for a departure journey to Lake Mburo National Park with lunch en-route in Mbarara. Access the park through Sanga gate arriving in time for an afternoon boat cruise on Lake Mburo. Look out for several bird species including the conqui francolin, kingfisher, red-naked spurfowl, temminck's courser, black bellied bustard and African wattled lapwing let alone seeing four smaller lakes as well as amazing wildlife like the stunning impala, waterbuck, zebra, buffalo, hippos and crocodiles.
Lake Mburo - Mabamba - Kampala
Early morning breakfast and leave Mburo for birding at Mabamba swamp in Mpigi. The swamp provides a large variety of bird species with African water or swamp bird species like shoebill stork, pink-barked pelican, long-tailed cormorant, saddle-billed stork, marabours among others. Continue to Kampala for overnight.
Today, depending on your return flight, you will go for a Kampala city tour to explore the best places in Kampala as well as buy souvenirs before your transfer to the airport for your onward departure flight.
END OF SAFARI